Tina and James in love




with each other

Tina's father and stepmother, with James:




Their faithful, unfailing prayers helped me through to freedom and sustained Tina in her amazing ministry of the love of Jesus Christ to me.
Perhaps now was the right time after six years to make another overture. In a short but pointed prayer, I told God one day about the decision, saying, "I'll try again Lord, but I'm going no further than Birmingham." God certainly heard my cry. For it was from Birmingham that He was going to provide help with a deliverance ministry on the pathway to freedom and healing.
I selected Tina's name from an old list which stated her interest in meeting someone with a "regular prayer life". She later told me that during her days of leading the dating agency's group in the Halesowen area of the West Midlands she had met many males who, though interested in a relationship, seemed to lack that requirement. Her few clearly stated lines were meant to ward off anyone less dedicated than that!
The details which appeared on the quarterly handout captured my attention. They said something to the effect: "Christina Winterburn, d.o.b. 1944, born-again Christian, interested in friendship, companionship, possibly marriage, likes cooking, travel, embroidery, Bible study. Requirements: someone with a regular prayer life."
She had relinquished the job of leader of the Halesowen group as she was being swamped by many "agony aunt" calls from women desperate to find someone. She had cancelled her membership altogether and was just another name among many that I had kept from previous years of handouts. She was surprised to receive a call from someone desiring a meeting.
This was pretty evident on the day I phoned. I caught her unprepared, but left brief personal details including my telephone number. She was to mislay these but prayed that if it was right to follow me up, God would bring my name back to mind, which He did. She eventually located me in the phone book, rang me and then we began corresponding.
In her second letter Tina wrote:
"I thought I would let you know more fully my connection with Christian Friendship Fellowship. I am still associated with CFF and receive the lists/news and letters, but for three or four years I haven't written to anyone on the lists. In the first few months when I joined, I did write about half a dozen letters but found the contacts not really committed to Christ.
"So then, I got involved in leading the local group here, but after three years of being at the helm I felt someone else should take over. I handed over the leadership in June this year [1987]. Originally, I joined because I felt isolated as a single person in my church. Also I felt quite lonely (for the first time in my life) and felt the need to venture out of my orbit and make friends.
"I have made some lovely female friends in CFF and been blessed through their friendship. The few males I've met my age have been mainly divorcees with outstanding problems, so I haven't wanted to get involved in any way. Some felt quite hurt because I wouldn't go out with them, but I have always tried to be firm, straight and kind.
"To be honest, when you phoned me at first I felt quite defensive because of previous CFF contacts. I realised you were a definite committed Christian, though, and that kindled an interest, so that is the reason I phoned you back when I returned from holiday. Also, I sensed I had been somewhat abrupt to you when you first phoned me."
I discovered through corresponding that she was a former missionary with Operation Mobilisation in France and India and now worked as a practice nurse. It was a pleasant surprise to be told that her father, Maurice Winterburn, a retired Church of England vicar, had also attended Cliff College like myself. I purposely left out in my letters to her any mention of my mental condition or the numerous visits to psychiatric hospitals, thinking it would jeopardise chances of a lasting relationship.
After writing a few letters to each other, I invited Tina to come to Chesterfield for a day out. Our first meeting went well, starting with a lunch date in the town centre and followed by a visit to the picturesque grounds of Chatsworth House. It was a bright, late autumn day as we walked the spacious grounds, and I soon made up my mind that I liked Tina, and suggested a second date to which she agreed. She returned home to tell her father and stepmother that, to use her own words, she thought she might possibly have met the man she would marry.
It was during our second meeting at Tina's home in Halesowen, just eight miles south west of Birmingham, that she first began to suspect something was not right in my life, though it was too early to detect. Out walking the beautiful Clent Hills, I kept on referring to the many visions I had received over the years, which in reality were nothing but delusions.
To me these so-called visions were as true and as real as could be but, of course, that's just one problem a schizophrenic has. These visions, I told her, were special, unique and important, but the way I spoke made me appear off-balance and a little strange.
We continued meeting at weekends for the next few weeks until she discovered my condition. She phoned my home and was told by my daughter, Alison:
"Dad isn't in because he's gone to the doctor's for his injection."
"An injection for what?" asked Tina.
"For his nerves," Alison replied.
When I later told Tina the injections were either modecate or depixol, two anti-psychotic drugs she herself administered during her work as a practice nurse, she put two and two together and realised that I was suffering from schizophrenia, having shown some major symptoms.
The discovery that I had schizophrenia made Tina have immediate doubts about a lasting relationship. She had treated both Christian and non-Christian schizophrenics and knew there seemed to be no apparent cure. A Christian doctor at the practice where she worked had an interest in psychiatry and he strongly warned her not to get involved with me.
When Tina said to him: "If a person was married to someone with diabetes one could live with that fact," he replied: "There's a great deal of difference in being married to someone with diabetes and someone with schizophrenia. At least you can debate and communicate with a diabetic, but not so with a schizophrenic because his mind is illogical and unpredictable."
Tina was later to tell me: "He was really quite adamant with me not to get involved. He said it would lead to a lot of stress, about which of course he was absolutely right, until you were finally set free and restored."
His advice put lots of doubts into Tina's mind and caused her to decide, rather reluctantly in some ways, to start withdrawing from my life.
I sometimes felt a little uneasy visiting Tina's home knowing that her father, Maurice, the chairman of the long-established League of Prayer movement in the United Kingdom, worked alongside Mr Albert Harper, the secretary, whose prayer meetings I used to attend in Rotherham years before. I once phoned Mr Harper at 4 a.m. while in a disturbed condition, and I just didn't want him to pass that information on to Maurice in case it proved detrimental in my relationship with Tina.
By early January 1988, three months after we first met, she had almost made up her mind "to let me down gently" and disappear from my life. Then something most significant happened in beginning a chain of events leading to a greater involvement with me.
I was off work for six weeks with laryngitis and bronchitis and had received an injection for my nerves. It produced a "high condition" in me made worse by my having fallen in love with Tina. Into this maze of emotions, God spoke to me in my bedroom one night and gave me a real vision. His words were simply these: "Enough is enough," ¾ a word directed to my long mental bondage and the issue of coming of drugs - and I saw in the vision Tina dressed in a bridal gown with her father by her right side.
From that night I came off injections for my nerves (and haven't had cause to return to them). I began to pursue Tina, believing that I had the backing of heaven behind me. But word of my vision didn't impress her. Neither did the bouquet of flowers I sent by Interflora quoting a verse from the Bible about the bride and the bridegroom.
"He's high again, and this is just another vision," she told her dad and Esther.
Soon afterwards I went into the mental hospital for a rest on the advice of my doctor. I wrote a long love letter to Tina in readiness for her visit on a blustery winter's day and told her just how I felt. She sailed into the hospital wearing a long burgundy mackintosh, carrying tangerines in a string bag in one hand and a copy of All Creatures Great and Small in the other.
My first words were: "I want you to read what's in this letter because it tells you all that I feel about you. I am deeply in love with you. You understand, don't you?"
While sympathetic with my mental condition, the romantic approach failed to impress, though in my heart of hearts I was as serious as I could be. She bumped into my Pastor, John Humphries, at the hospital and intimated she was going to walk out of my life and let me down gently.
Visiting my bedroom on the ward she saw lined up in the window a row of Christian books, mainly on prayer. She sought to inspire a bit of natural life into me by suggesting I read the book she had brought; but I made it clear that I had no time to read less important books.
I was helped and encouraged by a Christian doctor who advised me to take a new drug called sulperide. But I held on to the vision God had given me and was determined not to take any more drugs. I asserted myself and said to her:
"Whose life is it anyway? I'm all right. I don't want any more tablets."
During the short spell at the hospital, I never took one tablet, although I gave the impression at the time when they were handed out by the nurse that I swallowed them. I held the tablet at the back of my mouth with my tongue and dropped them down the toilet as soon as she had left the room.
In my feverish enthusiasm I kept ringing Tina from the hospital two or three times a day, causing some alarm by the number and persistency of the calls.
Her father Maurice and stepmother Esther were obviously concerned about her involvement with me. Their Christ-like compassion for me remained steadfast and they also prayed me through several bad patches. There was power being unleashed in my life in response to these prayers, and those from others in various parts of the country, as I received Christ's strength to fight the evil force entrenched in my life.
After discharge from hospital, I needed time off work for the laryngitis and bronchitis to heal. I bombarded Tina with regular despatches of "spiritual gems" from well-known Christian authors, which caused her to write in February, 1988:
"How many secretaries do you employ to send me so many letters?"
I was still head over heels about her, often asking myself why she didn't feel the same way about me. Receiving a letter always brought great encouragement to me, such as the one in February 1988, which said:
"I have been praying much for your continual healing. I believe the Lord has touched you, but sometimes the evidence of healing comes gradually. I was praying very much for you the other afternoon for an hour or so meditating on certain Scriptures. These are the verses that came alive as I was praying for a manifestation of God's healing touch in you:
1. Isaiah 26 verse 3: "You will keep in perfect peace him whose mind is steadfast, because he trusts in You."
2. Hebrews 7 verse 25: ... "Therefore He is able to save completely those who come to God through Him, because He always lives to intercede for them!"
3. Psalm 28 verse 7: "The Lord is my strength and my shield, my heart trusts in Him and I am helped."
4. Philippians 4 verse 7: "And the peace of God which transcends all understanding will guard your hearts and minds in Christ Jesus."
5. Psalm 22 verse 5: "They cried to You and were saved; in You they trusted and were not disappointed."
"As I have been praying for you, specific areas of your life have been major concerns of prayer, e.g. a restoring of a regular sleep pattern (10-11 p.m. - 6 am). I have been led to claim in the area of 'peace'. I want the Lord to continually immerse you in His peace.
"Also, I'm praying in these days you will learn to relax. You told me over the phone that you hadn't been able to really relax for years. So I'm praying that you will learn in these days. I feel you love the Lord 100 per cent and are fully committed to Him, but I sense you may have been spending time in feeding your spirit e.g. prayer/meditation but not enough time in relaxing following natural pursuits such as swimming, sports, hobbies, etc. Now, of course, our priority as Christians is to spend time with the Lord, but we are human and need to enjoy the natural pursuits of life to help keep us balanced. So I hope you don't mind me sharing that!
"The Lord really does love you James and wants you to show His life in the Post Office. You have done in the past, and I feel He will help you in the coming days when you get back and face the same people. I will be coming up on Wednesday and hope to have a long chat. I'm sure we have many things to talk about."
On her next visit, Tina began tidying up my house and was a little frustrated on finding that the electric vacuum cleaner would not work. She told me to get my coat on and put the clapped out appliance in the boot, as she was taking me out to buy a new cleaner. "You can pay me back at £5 a month," she said. She didn't even allow me time to take the plug off the old one, a move I thought at the time was really essential. I only ever gave her one payment as I must have forgotten the arrangement, and she never asked for any money.
No sooner had I returned to work in Sheffield than a major financial crisis put me under considerable pressure. I had accrued a lot of debt from the use of several visa cards from Midland, NatWest and Girobank. Strange to say, I could not put my finger on anything big that had caused me to keep using the plastic card, other than a Girobank loan and hefty telephone bills. I needed to secure a loan in order to clear the remaining balances on these cards.
The weight of owing the money hit me with particular force on top of everything else as I set off for Barclays Bank during my lunch hour to negotiate borrowing £2,000. The repayment amounts were about £55 a month for five years.
When the clerk arranging the details remarked, "That'll make it 1993 before it's paid. Seems a long way off, doesn't it?"
I replied: "It most certainly does."
The details completed, I knew the money would soon be available. This brought a tremendous relief as I walked back to the office from the city centre.
Having fallen in love with Tina brought its emotional stress as well. I felt frustrated that she didn't feel the same for me as I did for her. More progress would obviously have been made had I not had a psychotic illness, but how wise she was to keep me at arm's length at this time. A letter sent in mid-March evoked a reply that brought me up sharp.
She said:
"Thanks for your letter which arrived this morning. Yes, I do believe and am continually aware that you are in love with me. I am not offended at all by what you have written, but I'm a little mystified as to why you feel you need to repeat it from time to time. Do you feel my mind will be changed? The only thing that would change my mind would be if I had the 'go ahead' from the Lord. That has not come and if ever it was God's intention to bring us together then there would have to be definite direction from Him working through and revealing His will through circumstances.
"I am very fond of you James and the more I get to know you the more I like you. I am physically very attracted to you also, but I feel restrained by the Lord in committing myself to you, therefore I have to be disciplined and exercise self-control, which is one fruit of the Holy Spirit. I do believe (but I could be misguided on this point) that the Lord wants me to help you in certain spiritual areas. Generally, I believe it is unwise for a female to help a male through prayerful counselling, but somehow the Lord seems to have laid you on my heart. Also I definitely believe God has given me certain insights into you. I have said to the Lord, 'In many ways James is further on with you Lord than I am, so why are you gently pushing me in prayerful concern for him?'
"There have been no messages/words of Scripture etc., to tell me to carry on searching for answers, but I have sensed intuitively that the Lord is just giving me certain insights into certain struggles and difficult experiences you've had in your life. I can honestly say, I've never had such insights in helping others in the past. When I've prayed about these insights all I can say is that I'm filled with peace, faith and even joy at times, but always peace and faith. So it must be of the Lord. Also when I've been battling in prayer I have felt quite tired, but as soon as I have moved on to a place of victory over your particular difficulties I have immediately felt a release of physical energy. Then I have felt I could move mountains.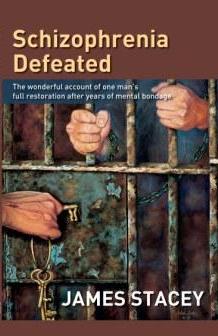 "The contents of the last paragraph may sound strange or difficult for you to understand but please do not worry. The Lord is on your side and He is the God of Release and Restoration. There is a lot to talk about, James, and we are going to see more victories won."
Though the first part of the letter had brought me down to earth, so to speak, I became hopeful of things moving ahead between us. Somehow I seemed unable to grasp what Tina was trying to tell me, as I held on to the belief that our relationship was advancing well. I was totally unprepared, however, for the shock just around the corner on a day off in March, when she announced an end to everything.
You can buy James's book, Schizophrenia Defeated here

We are unable to publish at present the full number of verses expressing love sentiments from James to Tina once the Lord Jesus Christ had made it clear they would marry in a special vision of seeing Tina in a bridal gown and her father by her side. However, here is a sample three giving his delight and joy.
"I can't express on this special day
My love for precious you.
If my heart could be unlocked
Its store would surprise you."
"I thought I'd never love again
And feel my heart-strings beat
The way they've done since I met you -
It's been God's special treat.
"God saw me trying to secure
What I could not then discern
Midst mental blues and inward pain
I needed love again."
The book is an autobiography of an amazing deliverance and healing from the evil of schizophrenia after 26 years. It is an inspiring human interest story of triumph and hope over the worst kind of psychotic illness for which there is no present-day medical answer.
1. The power of the faithfulness and love of God is supreme
2. The remarkable perseverance and endurance of my first wife Pamela, who died in 1981, and of my present wife, Tina, who were both inspired by God's love in helping me to freedom
3. The relevance of the power of prayer to cast out the demonic bondage, and revelations about the illness which throw light on the burning question - "Is it in the genes or is it demonic?"
4. Here is the answer for the medical world impotent to bring a lasting solution to the illness of schizophrenia
5. There is clear evidence for the church who can't make up its mind whether genuine born-again Christians, like myself, can still have evil spirits enslaving their lives
The account charts my "history" of schizophrenia and how I was affected by rejection in my mother's life from the time of conception. It details life up to teenage years, starting work as a journalist and the outbreak of the illness shortly after leaving Bible College. Visits to psychiatric hospitals, struggles with a growing nest of evil spirits taking up residence in my life and eager to destroy me, the inability of Christians to help me, are all recorded from a memory amazingly preserved by the Holy Spirit despite perpetual onslaught. Self-deliverance and healing by the power of the Holy Spirit within a matter of minutes are graphically described, as is the return to normal life after more than a third of a lifetime in bondage. James
"A road map to victory for every person diagnosed with schizophrenia – every psychiatrist and counsellor needs to read it." Peter Laue of Stretcher Bearers for Christ USA