THE LORD JESUS CHRIST IS STILL THE ONLY SAVIOUR, HEALER AND DELIVERER THROUGHOUT THE WORLD WHERE 1 IN EVERY 100 PEOPLE IN EVERY NATION SUFFER FROM SCHIZOPHRENIA!
ON THIS PAGE READ FOUR GLORIOUS TESTIMONIES OF WONDERFUL FREEDOM BESTOWED BY THE SON OF GOD
(Testimony 1, Testimony 2, Testimony 3, Testimony 4)
AND ACCESS ENCOURAGERS ON HOW TO DEFEAT THE MOST SEVERE MENTAL BONDAGE OF ALL
(The website seeks to honour the Name of the Lord Jesus Christ and share powerful testimonies of people who have been set free).
THE FULL WEB SITE CONTENT IS NOW AVAILABLE IN 90 LANGUAGES AS SHOWN BELOW. PLEASE SELECT YOUR CHOSEN LANGUAGE IN THE DROP-DOWN BOX ABOVE.
Afrikaans, Albanian, Arabi, Armenia, Azerbaijan, Basqu, Belarusia, Bengal, Bosnian, Bulgarian, Catalan, Cebuano,Chichewa, Chinese, Croatian, Czech, Danish, Dutch, English, Esperanto, Estonian, Filipino, Finnish, French, Galician, Georgian, German, Greek, Gujarati, Haitian Creole, Hausa, Hebrew, Hindi, Hmong, Hungarian, Icelandic, Igbo, Indonesian, Irish, Italian, Japanese, Javanese, Kannada, Kazakh, Khmer, Korean, Lao, Latin, Latvian, Macedonian, Malagasy, Malay, Malayalam, Maltese, Maori, Marathi, Mongolian, Myanmar (Burmese), Nepali, Norwegian, Persian, Polish, Portuguese, Punjabi, Romanian, Russian, Serbian, Sesotho, Sinhala, Slovak, Slovenian, Somali, Spanish, Sundanese, Swahili, Swedish, Tajik, Tamil, Telugu, Thai, Turkish, Ukrainian, Urdu, Uzbek, Vietnamese, Welsh, Yiddish, Yoruba, Zulu

BEGINNING MY 30th YEAR OF FREEDOM SINCE THE POWER OF THE NAME OF THE LORD JESUS CHRIST DELIVERED AND HEALED ME OF 26 YEARS OF THE EVIL OF SCHIZOPHRENIA - PRAISE GOD FOR HIS FAITHFULNESS!
"I will proclaim your mighty acts,
O sovereign Lord." Psalm 71:16




Before deliverance and healing


WEEKLY
ENCOURAGER
22 SEPTEMBER 2019





After deliverance and healing
SCRIPTURAL ADVICE, HELP AND INSIGHT ON HOW TO TRUST THE LORD JESUS CHRIST TO DEFEAT SCHIZOPHRENIA FROM JAMES STACEY NOW STARTING HIS 30TH YEAR OF FREEDOM FROM THE DEMONIC BONDAGE AND OVER 31 YEARS OFF ALL ANTI-PSYCHOTIC MEDICATION
CLICK BELOW TO SEE AND HEAR HOW THE LORD JESUS CHRIST
SET JAMES FREE AFTER 26 LONG YEARS OF SCHIZOPHRENIA
When God heals and sets free it lasts
For Part 1 click the left image below: 12,344 views Part 2 click the right image below: 8,347 views
KEEP ON EXERCISING FAITH WHEN YOU DO NOT FEEL THE PRESENCE OF GOD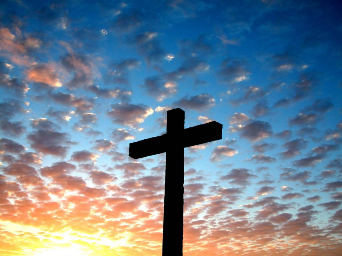 THIS WEEK'S SELECTED BIBLE READING IS EXODUS CHAPTER 33: Key Verses 12-23: Moses and the Glory of the LORD: Moses said to the LORD: "You have been telling me, 'Lead these people,' but you have not let me know whom you will send with me. You have said, 'I know you by name and you have found favour with me. If you are pleased with me, teach me your ways so I may know you and continue to find favour with you. Remember that this nation is your people." The LORD replied, "My Presence will go with you, and I will give you rest." Then Moses said to him, "If your Presence does not go with us, do not send us up from here. How will anyone know that you are pleased with me and with your people unless you go with us? What else will distinguish me and your people from all other people on the face of the earth?" And the LORD said to Moses, "I will do the very thing you have asked, because I am pleased with you and I know you by name." Then Moses said, "Now show me your glory." And the LORD said, "I will cause all my goodness to pass in front of you, and I will proclaim my name, the LORD, in your presence. I will have mercy on whom I will have mercy, and I will have compassion on whom I will have compassion. But," he said, "you cannot see my face, for no-one may see me and live." Then the LORD said, "There is a place near me where you may stand on a rock. When my glory passes by, I will put you in a cleft in the rock and cover you with my hand until I have passed by. Then I will remove my hand and you will see my back, but my face must not be seen."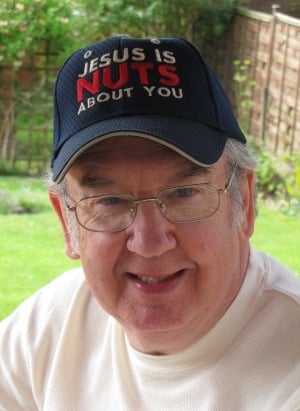 The spiritual bondage of schizophrenia in the life of a born-again Christian constantly thwarts the enjoyment of the presence of God.
Since the dawning of the psychotic disturbance, you will have been aware of an interference affecting the quality of your communion with the God and Father of our Lord Jesus Christ.
I speak from experience and can accurately detail the dilemma. Because "another presence", namely a demonic one, has surfaced in your life, your whole fellowship with God is now being challenged.
Before the evil spirit "appeared", you were enjoying the wonderful freedom bought by Jesus Christ, the Saviour of the world, on the cross for you. Now, that same quality of fellowship feels permanently lost at times as "another presence" hinders your enjoyment.
The urgent issue on hand now is to defeat this uninvited opposing presence by challenging its legal right in your life and taking steps to drive it permanently from you.
Until it is exorcised, the precious full enjoyment of the presence of God and the total spiritual freedom of your entire life, will not be complete.
Because you love God, you must have His Presence. His Presence "makes your paradise and where He is 'tis heaven." You cannot live without His Presence. It is more than life itself.
Some of you reading this Encourager can identify with a sense of having been robbed of the enjoyment of the Presence of God. You know your life has changed and you are not the same person you were before schizophrenia dawned.
How are you to continue living when you neither sense the Presence of God nor the joy of His Presence? Drugged up to the eyeballs with medication, steered into a cul-de-sac of passivity, you long for the enjoyment of the Presence of God to deliver you from what seems a mere existence!
It may bring you little comfort but all you can do during the times you don't feel the presence of God is to hang on to Christ in faith. He is holding on to you more than you realise. I have been at the place many times of feeling no emotion - and instead battling with a heaviness in my head. To persevere and quietly lean solely on the Lord in faith and prayer – in however a feeble way you do it – is all you can do, but do it you must.
Medication may stabilise and calm you, but it absolutely numbs your mind and affects your spiritual life. It minimises the enjoyment of the Presence of God. If you were a Christian walking with Christ before schizophrenia dawned, you may have faced the question of whether you live by "faith or by feelings."
Feelings, remember, are located in the emotions whereas faith involves an act of the will and the whole weight of your personality. It was during my time inside the "schizophrenic prison" that God began to teach me the truth of being properly related to him. I missed feeling His Presence. But Christ was still my Saviour no matter what I felt like – and that was fact. Bowed down with medication, shut up in a mental hospital, unable to be granted week-end leave and all alone, this was not sufficient to destroy what I knew was true about Jesus no matter what kind of feelings were present.
Coming to know Jesus as Lord and Saviour introduced you to the Divine Presence of God. Your whole life changed when such a life-changing encounter of the power and Presence of God became real for you. You realised Jesus Christ died on the cross for you and rose from the dead. How dare any demonic spirit seek to rob you of life's most precious enjoyment and mess with the sanctity of your God-created life?
Your whole being must engaged in spiritual warfare and regain spiritual freedom and the presence of God, and drive out the intruder. Notice, in the gospels, this is what is recorded of the action Jesus took in people's lives – he drove out demonic intruders. They were around in his day, and they are still around today (even though parts of the church do not want to talk about them).
If your experience of the "dawning of schizophrenia" was anything like mine, in a given moment your whole mind was "taken over" and everything hitherto enjoyed went out of sight. (The only thing uppermost in my mind was a strange feeling, or presence in my head, which brought wrong thinking and disrupted the entire course of life.)
For those born-again Christians reading this who are going through a similar experience, you will need a life-line to hold onto in your confusion. The entrance of God's words in your heart will shed light on your pathway. Turn to it and feed on God through His word.
You may not feel the Presence of God like before, but you have to continue fighting and addressing this strange foe with a personality of its own which has descended on your life uninvited. Like someone who walks into your lounge, you can't ignore them. This presence – aptly referred by an author as "pigs in the parlour" – has got to be shown the door.
Yes, that is what schizophrenia is! It is another presence, living in your life with intentions of taking you over the brink and aiming eventually to destroy you. THE GOOD NEWS IS THAT JESUS CHRIST HAS DEFEATED THE DARK PRESENCE AND HE IS ALWAYS OFFERING HIMSELF TO YOU TO STRENGTHEN YOU TO FIGHT ON AND WIN THROUGH.
FINAL WORDS: A quote from Watchman Nee: "We should inquire once again as to what the life of faith is. It is one lived by believing God under any circumstance: "If he slay me," says Job, "yet would I trust in Him" (13:15 Darby translation). That is faith. Because I once believed, loved and trusted God I shall believe, love and trust Him wherever He may put me and however my heart and body may suffer." The Spiritual Man page 245
FOR FURTHER READING - See Archive File
FOR THE FULL RANGE OF WEEKLY ENCOURAGERS BETWEEN 2010-2019 CLICK HERE TO SURVEY THE MESSAGES OF HOPE, GUIDANCE,

AND ENCOURAGEMENT CENTERED IN THE LORD JESUS CHRIST.
---
WEEKLY ENCOURAGER 29 SEPTEMBER 2019
DELIVERED AND HEALED WITHIN MINUTES - Extract Of Chapter 9 From Schizophrenia Defeated
The memorable day when I was set free was on a bright and sunny May Day Bank Holiday in 1990, the extra public bank holiday for workers to enjoy, but for me a day of joyous freedom through deliverance and healing. It was a day to be outdoors, so Tina and I headed for the Clent Hills, our favourite spot for a walk and chat.
During a leisurely stroll, Tina pointed out that my problem was one of schizophrenia. She said it in a matter-of-fact way, but no sooner had she spoken than the Holy Spirit said to me: "That's right. That's what it is." I found myself totally agreeing with her for the very first time.
It was as though light and truth from the Holy Spirit dawned on my mind and I could see myself as I really was. No more disagreement or opposition from me, but a simple acceptance of what she had said. Revelation had at long last penetrated my mind.
Arriving back at her home, I was moved to ask if we could pray together. It proved a mighty time of aggressive intercession during which the Lord moved into our praying and carried me heavenward with powerful pleadings. I told God I was so angry with the enemy of my life for having messed it up all these many years. It was earnest petitioning coupled with a desperate cry for help, to me so urgent and real that I told Tina in an aside to be quiet because I was really talking with God and getting through, and it was important to unburden my heart and share my need.
I came out of that prayer more powerful than when I went into it, but I also received an assurance from the Holy Spirit that the evil power was going to be cast out and by the end of the day I would be free.
I could see that Tina was looking tired, as she often had been in her loving, devoted help to me for so long. The thought of having more prayer was dropped and I decided it was time to leave for home at Chesterfield.
We kissed and said cheerio at New Street Station, Birmingham. I was itching to get my teeth into a book called Pigs in the Parlour. I read of how evil spirits can, through lack of watchfulness or dabbling in the occult, be allowed to walk into our lives like pigs coming into the best lounge in our homes and squatting down in all their filth without being moved on. I spent the time before boarding the train praying in the toilet, asking God for a quiet spot on the journey so that I could read undisturbed.
I found a single seat right up front in the first carriage next to the engine. As I read first of all the chapter on schizophrenia, and then two more, faith and confidence began to rise in my heart. I really believed that God was not only able to rid me of this demonic presence but that He was going to show me how to do it single-handed.
On reaching home, a joyous anticipation of being set free gripped my life. The fact that I had never before cast out evil spirits from my own life or anyone else's didn't seem to matter. I turned the whole business over to God and said: "Lord, you'll have to help me because getting demons out is all new to me."
BOOK RECOMMENDATIONS
"A thorough and honest look at both the illness and the healing. Helpful both for sufferers and those trying to help them. A strong Christian book which I would recommend". Gillian 2/10/2015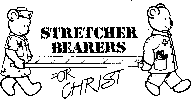 "A road map to victory for every person diagnosed with schizophrenia - every psychiatrist and counsellor needs to read it." Peter Laue, of Stretcher Bearers For Christ, USA

---
Many books on leadership and ministry are written from the point of view of success and strength. In Sustaining Leadership Paul Swann writes out of the raw experience of failure, getting to the heart of who we are as leaders rather than what we do. From this, he offers both hope and practical resources for sustaining effective long-term ministry, looking at self-care, balance and healthy ministry, feasting on divine love, and more. As he says, this is the best gift we can offer those we serve.
Find out more and order Paul's excellent book HERE
This courageous, raw and inspiring book is a 'must read' for any who long to live in the fullness God intends for us, amidst the realities and challenges of everyday life. A 'how to' walk the Truth of God's strength in our weakness. I wish I had had this treasure twenty years ago! Alina Clarke
---
IF YOU HAVE NEVER INVITED JESUS CHRIST INTO YOUR LIFE, AND WISH TO, DO PRAY THE FOLLOWING PRAYER WITH ALL YOUR HEART: "Lord God Almighty, I approach you in the name of your Son, Jesus Christ. I know I have sinned in my thoughts, words and actions. There are so many good things I have not done. There are so many sinful things I have done. I am truly sorry for the sinfulness in my life, but most of all I acknowledge the sin that separates me from you. I accept the death of Jesus on the Cross to redeem me and extend the gift of eternal life. Gratefully, I give my life back to you as I now ask you to come into my life. Come in as my Saviour and Lord and cleanse me. Come in as my Lord to control me. Come with the strength of your grace and the power of your Spirit to defeat the evil spirit of schizophrenia that troubles me. Now you have set my spirit free, pour your delivering and healing power into my life as I take authority in the name of Jesus through the power of his blood over the intruding force. I assert your ownership of my life and resist any legal right that the devil seeks to hold over my life and bind up and expel any evil presence. I believe that my mind can be completely set free and my whole life enjoy the total freedom of Jesus. Amen".
---
WHEN I'M BACK ON MY FEET AGAIN!!

God is always working to get us "back on our feet again." He is well able to do it for YOU.

This video by Canton Junction from Godtube is sent out to all our website visitors who long for freedom over schizophrenia.

Receive sure and certain HOPE from Jesus Christ that He is moved with compassion to bring you through your present struggles and establish you "back on your feet again" in His victorious life and freedom.

"If you hold to my teaching, you are really my disciples. Then you will know the truth, and the truth will set you free," said Jesus (John 8:31-32).
---
ORDER SCHIZOPHRENIA DEFEATED
BOOK & DVD ONLINE NOW


To the Jews who had believed him Jesus said: "If you hold to my teaching, you are really my disciples. Then you will know the truth, and the truth will set you free." John 8:31
---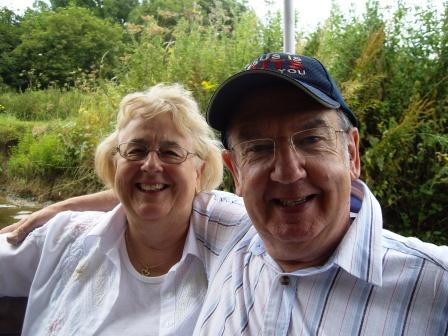 A warm welcome to our world ministry of offering real hope to schizophrenics and anyone mentally assailed.
Our website Pray Until Schizophrenia Heals exists to proclaim with a trumpet voice that the love and victory of Jesus Christ is today's only answer out of mental bondage into lasting joyous freedom.
For 26 long years, I was enslaved in a schizophrenic mental prison house until in 1990 Jesus Christ delivered me and two minutes later healed my mind. It took a further 12 years to return to life as I knew it before the illness dawned in 1964.
In 2004, I released my life story, Schizophrenia Defeated, detailing a long, hard prayer battle into freedom in order to give hope, new understanding of the disease and a new strategy to unlock the gates of insanity of this invisible enemy.
It is our prayer that as you view our site, you will sense something of the compassion of Jesus which fills our hearts and lives to spread the message that His love and power can still bring His glorious freedom TODAY no matter how helpless and hopeless you may feel life has become.

With our love and prayers
James and Tina Stacey
---
We are told in the book of Acts, chapter 2, verse 17, that "... your old men shall dream dreams." The painting by the artist Rebekah Laue is a portrayal of her husband's prophetic dream. She pondered the dream for many years before she was able to capture it's essence on canvas.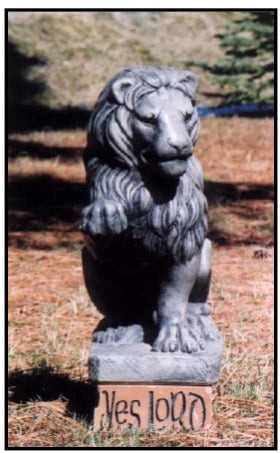 In his dream, Peter saw a rock wall with an ordinary stick lying nearby. He was prompted to pick it up and beat vigorously on the wall. Nothing happened! Then he saw a lion's paw at his feet. He dropped the stick, picked up the paw and barely touched the wall. As he did, the wall began to crumble.

Peter awoke weeping and trembling as he experienced new authority, purpose, power, and confidence streaming into every fiber of his being. In lieu of a lion's paw he has acquired a real sword, which he now uses in spiritual combat.

The stick is symbolic of man using his own strength and wisdom to tear down strongholds. The rock wall is symbolic of those walls around our hearts that imprison us and cause us to be isolated from God and one another.

The Hebrew letters on the rocks represent strongholds such as hate, anger, revenge, rebellion, witchcraft, bitterness, pride, fear, unbelief, unforgiveness, lust, idolatry, greed, gluttony, jealousy, self-pity, legalism, and man's traditions.

The sword issuing from the lion's mouth is the Sword of the Lord, which is the Word of God. The lion portrays Jesus Christ as revealed in the book of Revelation, chapter 5: "... Behold, the Lion of the tribe of Judah, the Root of David, has prevailed..."

The truth in the painting shall march throughout the land like a banner and confront the strongholds that imprison us. Has God singled you out to carry that banner and address those strongholds? Before saying YES or NO, count the cost or the opportunity lost! TAKE A STAND! TAKE BACK THE LAND!

For more insight and information go to www.stretcherbearers.com
---
FREEDOM!

Listen in to a service in Armenia, Colombia where James speaks about the joy of being free after 26 years of bondage to schizophrenia - supported by his wife Tina who prayed him through.
(Length 1 hour 45 mins with translation. Our translator, Anita Keith-Gillon is pictured right)
---
A letter has been received from a Christian in Papatoetoe, New Zealand stating:
"I am a fan of your Weekly Encourager for it exposes the underlying causes of schizophrenia whereas most other websites on the subject matter do not".
All Things Are Possible Through Believing Prayer

CELEBRATING 30 YEARS OF DELIVERANCE AND HEALING FROM SCHIZOPHRENIA ON MAY DAY 2020 THROUGH THE AMAZING POWER OF THE LORD JESUS CHRIST.

Not only has the Saviour of the world defeated Satan and the demonic bondage but He continues to impart His power to maintain and enlarge the freedom He brings.

When God sets free His freedom BRINGS LASTING VICTORY!

Click the video clip - right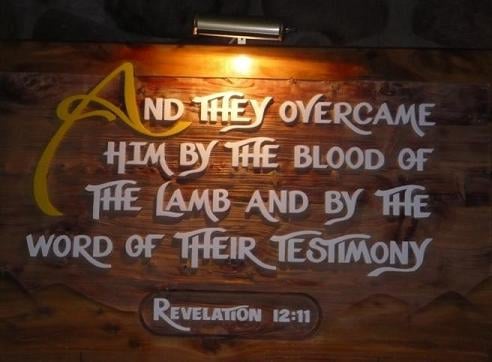 ---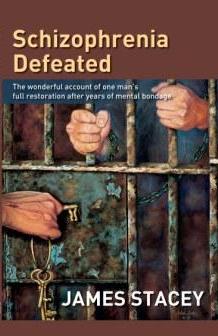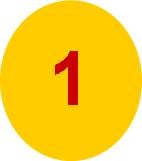 SCHIZOPHRENIA DEFEATED by JAMES STACEY

CLICK ON THE BOOK COVER to read the WHOLE of the book "Schizophrenia Defeated" and celebrate the gift of God's Son, Jesus Christ, who permanently delivered and healed me after 26 years of suffering the schizophrenia bondage. Click on the image - right - to read the book in its Spanish version.

Author's Information:
The book is an autobiography of an amazing deliverance and healing from the evil of schizophrenia after 26 years. It is an inspiring human interest story of triumph and hope over the worst kind of psychotic illness for which there is no present-day medical answer.
The strengths and appeals of the 16 Chapters embrace several thrilling themes:
1. The power of the faithfulness and love of God is supreme
2. The remarkable perseverance and endurance of my first wife Pamela, who died in 1981, and of my present wife, Tina, who were both inspired by God's love in helping me to freedom
3. The relevance of the power of prayer to cast out the demonic bondage, and revelations about the illness which throw light on the burning question - "Is it in the genes or is it demonic?"
4. Here is the answer for the medical world impotent to bring a lasting solution to the illness of schizophrenia
5. There is clear evidence for the church who can't make up its mind whether genuine born-again Christians, like myself, can still have evil spirits enslaving their lives
The account charts my "history" of schizophrenia and how I was affected by rejection in my mother's life from the time of conception. It details life up to teenage years, starting work as a journalist and the outbreak of the illness shortly after leaving Bible College. Visits to psychiatric hospitals, struggles with a growing nest of evil spirits taking up residence in my life and eager to destroy me, the inability of Christians to help me, are all recorded from a memory amazingly preserved by the Holy Spirit despite perpetual onslaught. Self-deliverance and healing by the power of the Holy Spirit within a matter of minutes are graphically described, as is the return to normal life after more than a third of a lifetime in bondage. James
"A road map to victory for every person diagnosed with schizophrenia – every psychiatrist and counsellor needs to read it." Peter Laue of Stretcher Bearers for Christ USA
11 Year-Old Proclaims Jesus Through the Bible - POWERFUL!
Josiah Willis is an 11 year-old with a heart on fire for Christ!
Listen to this AMAZING proclamation of Jesus throughout the entire Bible.
It will leave you in awe and speechless!
READING THROUGH THE BOOK GOD WROTE

Jesus replied: "If anyone loves me, he will obey my teaching. My Father will love him, and we will come to him and make our home with him. He who does not love me will not obey my teaching. These words you hear are not my own; they belong to the Father who sent me." John's Gospel 14: 23-24

The One Year Bible Plan - Appearing Week by Week
September 19 - 29, 2019

September 19 ~ Isaiah 30:12-33:9 ~ Galatians 5:1-12 ~ Psalm 63:1-11 ~ Proverbs 23:22
September 20 ~ Isaiah 33:13-36:22 ~ Galatians 5:13-26 ~ Psalm 64:1-10 ~ Proverbs 23:23
September 21 ~ Isaiah 37:1-38:22 ~ Galatians 6:1-18 ~ Psalm 65:1-13 ~ Proverbs 23:24
September 22 ~ Isaiah 39:1-41:16 ~ Ephesians 1:1-23 ~ Psalm 66:1-20 ~ Proverbs 23:25-28
September 23 ~ Isaiah 41:17-43:13 ~ Ephesians 2:1-22 ~ Psalm 67:1-7 ~ Proverbs 23:29-35
September 24 ~ Isaiah 43:14-45:10 ~ Ephesians 3:1-21 ~ Psalm 68:1-18 ~ Proverbs 24:1-2
September 25 ~ Isaiah 45:11-48 ~ Ephesians 4:1-16 ~ Psalm 68:19-35 ~ Proverbs 24:3-4
September 26 ~ Isaiah 48:12-50:11 ~ Ephesians 17-32