SCHIZOPHRENIA DEFEATED - the book
Published in 2004, Schizophrenia Defeated is James Stacey's account of his full restoration after years of mental bondage.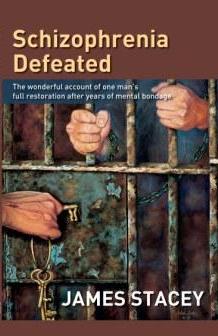 The book is an autobiography of an amazing deliverance and healing from the evil of schizophrenia after 26 years. It is a wonderfully inspiring human interest story of triumph and hope over the worst kind of psychotic illness for which there is no present day medical answer. Its release in 2004 marked 14 years of established healing and 16 years without medication. See the foot of this page for reviews of the book.
Click here to read three extracts.

The strengths and appeals of the 16 chapters embrace several thrilling themes.
1. The power of the faithfulness and love of God is supreme.
2. The remarkable perseverance and endurance of my first wife, Pamela, who died in 1981, and my present wife Tina who were inspired by God's love in helping me to freedom.
3. The relevance of the power of prayer to cast out the demonic illness, and revelations about the illness which throw light on the burning question, "Is schizophrenia in the genes or is it demonic?"
4. Here is an answer for the medical world impotent to bring a lasting solution to the illness of schizophrenia.
5. There is clear evidence for the Church who can't make up its mind whether genuine born-again Christians, like myself, can still have evil spirits enslaving their lives.
The account charts my "history" of schizophrenia showing how I was affected by rejection in my mother's life from the time of conception. It details a normal life up to teenage years, starting work as a journalist and the outbreak of the illness shortly after leaving Bible College. Visits to psychiatric hospitals, struggles with a growing nest of evil spirits taking up residence in my life eager to destroy me, the inability of Christians to help are recorded in detail from a memory amazingly preserved after perpetual onslaughts. The reader's interest is captured by the decision of my girlfriend Pam who is guided by God to marry me knowing the reality of my illness and its entrenched problems.
The story records the long fight to survive the oppression of evil spirits, the devastating loss of Pam after a three years and four months' fight against cancer, and my subsequent struggle coping with bereavement. Typical loneliness and isolation associated with the illness seek further entrenchment in my life in the following years, until I join a Christian dating agency though not ready for marriage. A series of failed contacts result in a prayer of desperation asking God to provide a second wife, but "Lord, I'm going no further than Birmingham". The answer came in the start of a relationship with Tina, an ex-missionary and nurse who, although at first compassionate with my condition, saw no way forward to marriage. I refused her efforts to end our meetings because God had earlier given me a real vision of her in a bridal gown.
Tina was later inspired to believe that there was a way out for me into full freedom and set about moving heaven and earth as she enlisted strong prayer support. At the same time, my personal fight to break free was intensified, helped through having left off all medications for two years. On May Day 1990, a 26-year-long fight ended when I commanded evil spirits from my life and minutes later was healed in my mind through the power of God physically penetrating the centre of my head. Important chapters after deliverance show the struggle and difficulty of keeping my freedom and outline essential steps on how to live and maintain liberty after once being released.
I conclude with a message of hope for every schizophrenic while at the same time showing the important necessity of knowing the living presence of Jesus in order to experience real freedom. The narrative is an eye-opener to the complexities and problems of schizophrenia which is viewed by some mature deliverance ministers to be the "deepest, most involved and most determined deliverance" to be encountered. There are encouraging testimonials from my psychiatrist and two pastors who, although unable themselves to free me, rejoice over my lasting breakthrough into freedom.
The story is unique and relevant. Claims and proof of having been healed of schizophrenia are often met with doubt, but 15 years on from deliverance day, healing has been established and I have reclaimed all that I lost during long years of entrenchment. It is a story of hope, REAL hope. We must be willing to give Jesus, the Great Physician, His rightful place on our healing staff as we treat the mentally ill. It is He who has equipped me to speak with boldness and compassion on behalf of so many enslaved lives. If I can rescue just one more person from the hellish pit of insanity through recommending God's power and love, my testimony will have proved to be that lifeline of hope. "Everything is possible for him that believes"said Jesus (Mark 9 verse 23).
James Stacey June 2005
Book reviews: Schizophrenia Defeated
Direction Magazine - August 2004
An honest, no holds barred, account of James Stacey's long battle against the holding power of schizophrenia. After spending time in hospital and being on medication for some time, he courageously held down several jobs over these difficult years. In this book, he relates how he received help - especially from the Lord Jesus and those people who were closest to him - and how his tenacious faith has seen him through. I recommend this as a compelling biography that makes a good read.
David Lee, poet, writer, artist
The Flame, an interdenominational magazine proclaiming Scriptural holiness: April - June 2005
This is a remarkable story of one man, a schizophrenic, who was set free and completely healed through prayer in the name of Jesus Christ of Nazareth.
During his time as a journalist he gradually developed this appalling affliction that sapped his strength and robbed him of mental freedom. Schizophrenia is a baffling problem to mental health professionals and perplexing to loved ones who are at a loss to know how to help. Not the least, the victim cannot understand what is happening to him/her.
In this book, James, son-in-law of the Rev Maurice Winterburn, known to many Flame readers, describes his struggles to break free, and believes that he was enabled to continue working only through God's power and in answer to prayer. He relates how he finally found deliverance from his "prison house" to enjoy once again a normal life.
Major Norman Armistead, retired superintendent of the Salvation Army in Scotland and now editor of The Flame.
South Yorkshire Times: 18 June 2004
Jim enjoyed working several days a week in Darnall, east Sheffield, and the rest of the week with the sister paper in Rotherham, the Rotherham Express.
He was a very cheerful and energetic colleague and I was saddened when learning of his illness.
Jim went to Cliff College, Calver, the Methodist Training College, where he completed a lay preachers' course before returning to the South Yorkshire Times at Mexborough.
While there he discovered he was suffering from a mental problem and eventually he was treated at the former Middlewood Hospital in Sheffield.
It was while covering the Wath area for this paper that Jim met his first wife, Pam who later died of cancer.
Jim also had treatment at Mexborough Montagu Hospital from Dr Neville Gittleson in 1964 and later in the book Dr Gittleson expressed his delight on hearing that Jim had recovered from his illness.
He re-married and is now living in the Midlands and has not been on medication for some years, but Jim also stresses that his faith helped him recover from the illness and reach the point of deliverance from his "prison house".
The book tells of Jim's intolerable psychological turmoil and abnormal, sometimes bizarre behaviour, during his illness and how he made a full recovery.
It is a moving story that not only signals hope for people suffering from mental problems but is also a compelling read.
Review by Bryan Longworth, who was James's boss and colleague when he was a trainee reporter on the "South Yorkshire Times" starting in 1959-1962
JOYPLUS, and extension of Joy, the Assembly of God Pentecostal monthly magazine: 4 August 2004
Mental illness by its very nature is confusing and perplexing. It can also be stubbornly resistant to the best efforts of medical experts and those committed to the healing ministry.
So this warm, resolutely honest and practical book will give immense encouragement to those suffering from the turmoil and abnormalities of schizophrenia.
It shows how James Stacey's life, after almost three decades of intolerable torment, was transformed by the complete healing which only Jesus can bring.
Review by John Peters, teacher
Sunday Mercury / Newsedge Corporation: June 2004, available on

www.psychiatry24x7.com
A MIDLAND author who battled against schizophrenia for 26 years has launched an autobiography aimed at helping other sufferers. James Stacey, of Halesowen, last week released his life story, Schizophrenia Defeated, which charts his fight back to health.
The 62-year-old former reporter said the power of prayer had helped him to overcome the crippling mental illness, and he hoped his book would give inspiration to other sufferers.
He said: 'I was locked in a mental prison, but have now come out over the other side and my book is aimed at showing others there is hope.
'My story of freedom is sent out to bring hope through the power of prayer to secure release for you no matter how desperately it may be needed.'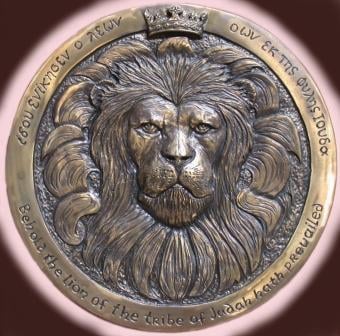 "Then one of the elders said to me,
"Do not weep! See, the Lion of the tribe of Judah, the Root of David, has triumphed.
He is able to open the scroll and its seven seals."
taken from the Book of Revelation 5, verse 5