GEORGE VERWER, FOUNDER OF OPERATION MOBILISATION: THANKSGIVING SERVICE AND A TRIBUTE BY JOHN PIPER
---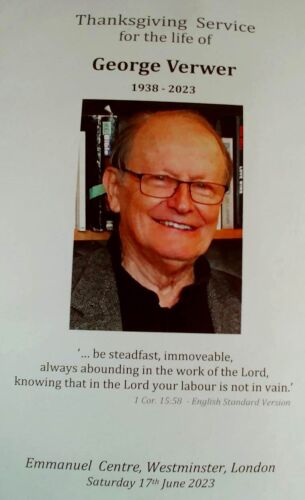 Watch below the Thanksgiving Service for George Verwer held on 17 June 2023
It was a most extraordinary service of thanksgiving for world pioneer missionary trailblazer and evangelistic giant, George Verwer held in London on 17 June as a rejoicing company of about 700 mainly silver and grey-haired former workers and supporters of Operation Mobilisation honoured their creator and leader who was deeply loved by all.

George would have been "greatly amused" to know that just before the two-hour service began, in the skies above Emmanual Church in central Marsham Street, there was an impressive fly-past of a variety of aircraft celebrating the trooping of the colour for new King Charles, which was witnessed by early arrivals exclaiming with joy, "that was for George!"
---
GEORGE'S "THANK–YOU" FROM HEAVEN TO FRIENDS AND PARTNERS
A few weeks before his passing, George Verwer felt inspired to do what he has been doing so well ever since the early days of starting Operation Mobilisation in appreciating friendship and partnership in spreading global mission for the Lord Jesus Christ.
He drafted a personal letter of invitation to all Dear Praying Friends:
"If you get this, it means that I am in Heaven. We want to thank you for standing with us in friendship and partnership all through these years.
"You are personally invited to attend my London Thanksgiving Service. (There will be several Memorial Services held by OM around the world throughout the year)."
Again. Thank you. George"
---
On April 14, 2023, one of the greatest missions leaders of the last hundred years passed into glory – and only glory can measure the global influence he left behind.

Raw Passion and Messy Missiology


A Tribute to George Verwer (1938–2023)



by John Piper (audio tribute - nine minutes long - click here to listen)